~ Rates do not include gratuity ~ Visa, MasterCard, Cash & Check Accepted ~
60 min Swedish Relaxation Massage - $45 - 90 min $65
60 min Deep Tissue / Therapeutic Massage - $70 - 90 min $95
30 min Focus Session Massage - $35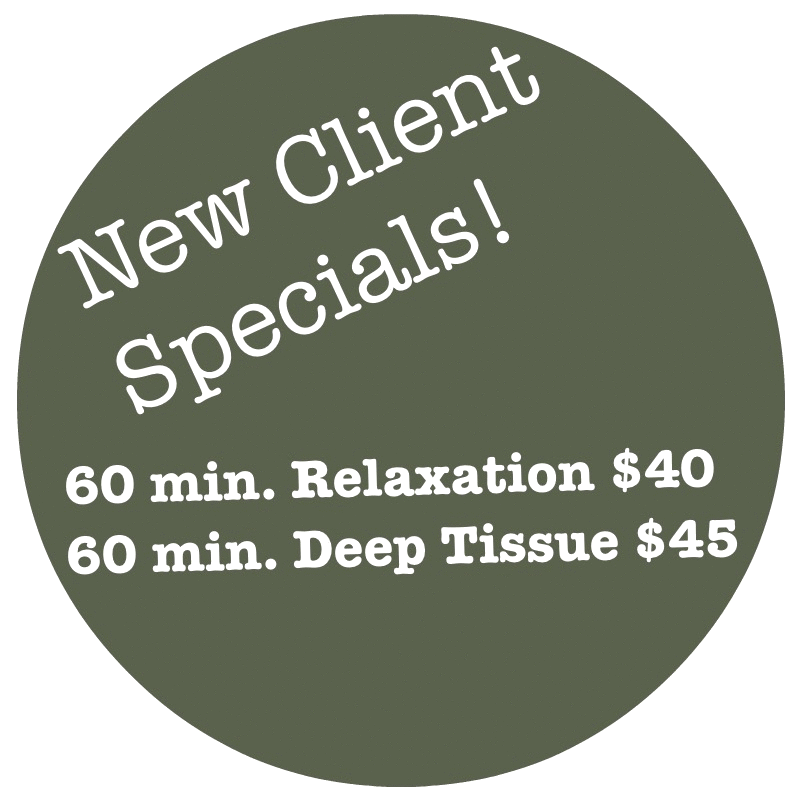 About Services
Swedish Relaxation Massage:
Emphasis: Lighter touch. Deep relaxation. Long soothing massage strokes.
This type of bodywork is focused on relaxation by applying a fusion of Swedish, light stretching, and optional *energy techniques that promote soothing of body and mind. and a parasympathetic response. Stimulating the healing aspects of the nervous system (parasympathetic) makes this massage modality crucial to well being.
____________________________________
Deep Tissue & Therapeutic Massage:
Emphasis: Deeper pressure (to comfort level). Addressing aches and pains. Active.
Evaluating specific trouble areas and applying a myriad of techniques to alleviate muscular dysfunction. I use a fusion of muscle mechanics, myofascial release, acupressure, trigger points, stretching, and a unique approach to pinning and stretching muscle tissues while engaging them, to promote a positive change. I can also adapt relaxation techniques using deeper pressure upon client's request.
__________________________________
Focus Session:
This is a 30 minute therapeutic massage session focusing on one region of the body (ex. shoulders). This is great if you need relief from pain and tightness, such as a crick in the neck.
Enhance Your Massage Session with These Additional Therapies.
*We are all energy. Through positive intention the therapist can encourage their client's energy to move smoothly. Many people develope energy blocks over time due to physical and emotional stress. Energy work is subtle and can involve light touch and/or the therapist hovering their hands a few inches above the client's body. Energy work can be utilized as needed in any massage session upon request.